These are the future colors that will welcome our hopefully many dear guests. Yes, while it seemed like I was just sitting back and relaxing to recover from the last major room makeover, I have been secretly getting very excited about the next project – the guest bedroom. One, because this room is a very blank slate. All we have at the moment is bedsheets. Two, because this is a room we won't use on a regular basis I expect very little interference from my practical-oriented husband. Yayy! Last Saturday morning I ran some errands to gather all materials needed for the DIY parts of the makeover and also happened to run into this great moving sale and scored some great vintage finds for the room.
This is what the room looks like at the moment: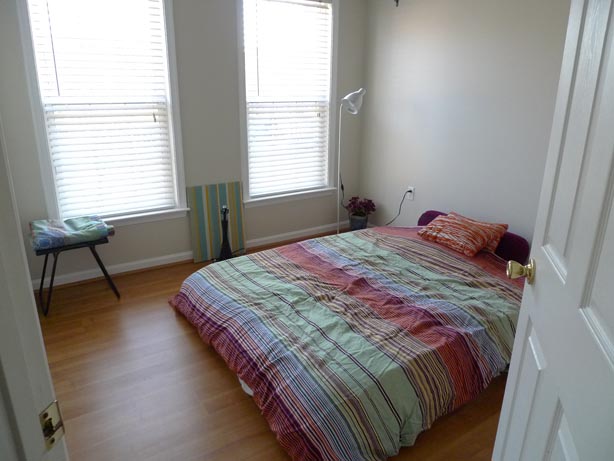 And here is the scoop about what is planned:
– Keep the shelves (figure that!) and decorate them with travel-themed collectibles
– Buy a mattress and find a cheap white bed frame or make a headboard out of old wood
– Make nightstands out of suitcases
– Hang curtain rods and sew curtains
– Make some wall art
– Ideally change out the bed sheets for something more matchy with the new room. But this depends on the budget.
These ideas from Pinterest are my inspiration: