This cake was a hit at Christmas last year and may become the holiday staple dessert. It combines my favorite chocolate cake recipe with red wine and cinnamon, adds a poached pear filling from this recipe, and a white chocolate frosting from this recipe.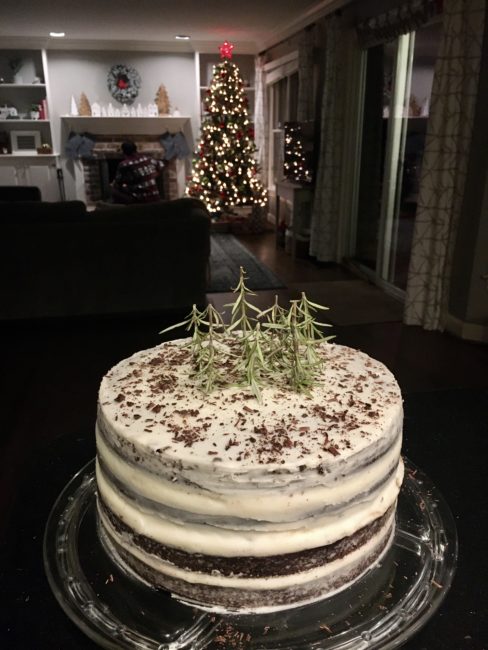 Cake Ingredients:
butter and flour for coating and dusting the cake pans
3 cups all-purpose flour
2.5 cups granulated sugar
1.5 cup unsweetened cocoa powder
1 to 1.5 tsp ground cinnamon
1 tbsp baking soda
1.5 tsp baking powder
1.5 tsp salt
4 large eggs
1.5 cup buttermilk
1.5 cup red wine
1/2 cup vegetable oil
2 teaspoon vanilla extract
Pear Filling Ingredients:
4 cups peeled and small diced pears d'angou
2 cups water
1/2 tbsp vanilla extract
1/4 cup brandy
3/4 cup brown sugar
2 tbsp lemon juice
1/4 tsp cardamom
2 tsp corn starch
Frosting Ingredients:
3 sticks salted butter, at room temperature
1 1/2 cups powdered sugar
8 ounces white chocolate, melted and cooled
Instructions:
Preheat oven to 350 degrees. Butter four 8-inch cake rounds. Line bottom with parchment paper. Grease again.
Mix together flour, sugar, cocoa, cinnamon, baking soda, baking powder, and salt in a stand mixer using a low speed until combined.
Add eggs, buttermilk, red wine, oil, and vanilla. Beat on a medium speed until smooth. This should take just a couple of minutes.
Divide batter among the four pans.
Bake for 30-35 minutes until a toothpick inserted into the center comes out clean.
Cool on wire racks for 15 minutes and then turn out the cakes onto the racks and allow to cool completely. Cut off any domes, if necessary, to create flat cake discs.
To make the poached pear filling: Add the water, brandy, sugar, vanilla, cardamom and lemon juice to a medium pot and bring to a boil. Add the diced pairs and lower temperature to a simmer. Cook until softened, about 20 minutes. Stir in cornstarch and simmer for a 2-3 minutes until thickened. Move the pear to a bowl and allow to cool. 
 To make the buttercream: Add the butter and powdered sugar to the bowl of a stand mixer. Beat the butter and powdered sugar together until the butter is light and fluffy. Add the melted white chocolate and beat until combined.
Place the bottom cake layer on a cake stand or plate. Spread a thin layer of frosting and pipe an additional ring of frosting around the edges. Then spoon a third of the poached pears on top of the frosting, but inside the piped ring. The ring makes sure that the pears stay inside the cake and no liquid is running out the sides. Place the second cake layer on top and repeat, then the third layer and repeat.
Finish with the fourth cake layer on top and spread the remaining frosting all over the cake and around the edges. Chill in the fridge for at least 2 hours.
Decorate as you wish. I used some rosemary tips and shaved chocolate.