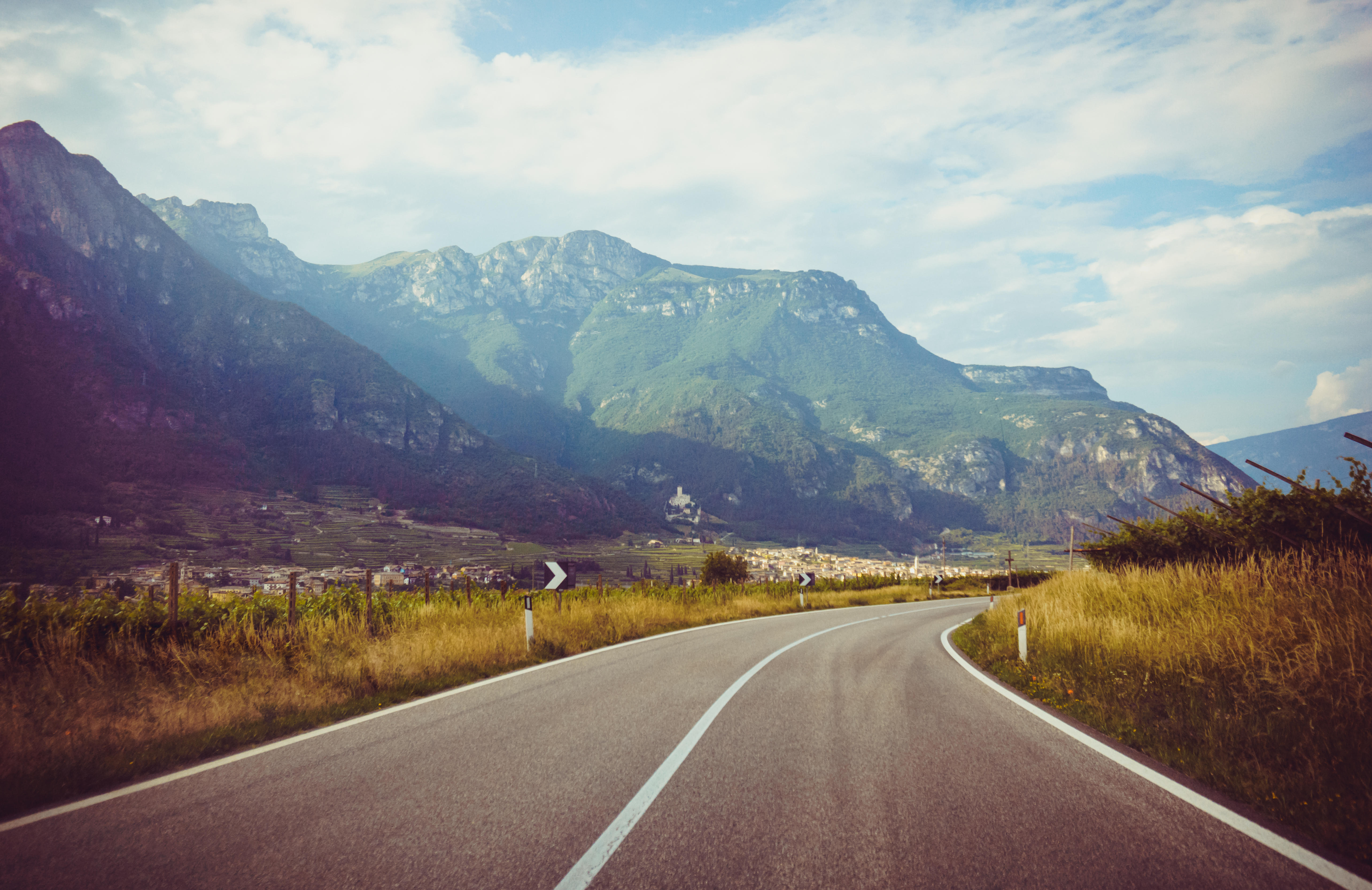 Glimpses
The majority of people around me have pretty straight hair. Maybe with a slight bend in them. Straight, sleek hair is desirable and all hair products try to help with that. And that's why most of the curly humans amongst us only know the straight way to treat hair. Just like I did up until last year.
You have to brush it is what you learn as a kid. You have to straighten the waves first, and then curl them properly, that's what hair stylists have been telling me. But go figure, that's just not how curly hair works.
This is a short story about how the Internet helped me convert my scraggly waves into healthy curls and I am planning on spreading the word. Everybody needs to know this – straight haired mom's of curly girls, traditional hair stylists who want their curly clients to come back. If you know a curly person, you have to get your friend to try it. Not because how you look is everything that matters, but feeling good about yourself does make a difference. And many curly people do not feel good about their frizzy pouf, but instead fry or brush their hair straight every day.
I'm gonna try to boil this curly recipe down to the basics because there are plenty of other detailed resources online that are all linked to this wiki. Here it goes – Three basic principles of treating wavy, curly, or coily hair better:
Moisturize the crap out of your hair.
Shape those ringlets.
Preserve that shape.
Moisturize
Use sulfate-free shampoos. Sulfates dry out the hair a lot and remove all natural oils, causing the scalp to produce even more oils. It takes a few weeks for the scalp to regulate, but afterwards you will get at least an additional day out of your hair without it getting greasy.
Some curly people even just scrub their scalp with a light conditioner instead of shampoo. It's called co-washing. Personally, I alternate sulfate free shampoo and co-washing.
Because sulfate-free shampoos can't fully remove silicones from the hair, now you'll also have to find all silicone free hair products for conditioning and styling that rely more on natural oils.
Use lots of conditioner on the length of the hair. Like tons. So much that your hair feels like slippery wet seaweed before you rinse it out.
Don't use a terry cloth towel to dry the hair because it removes too much water. Instead, just blotting it for a minute with a microfiber towel or your husband's old T-shirt works well. It should still be pretty wet for styling.
After washing and conditioning, the moisture needs to be locked into the hair. This is where every hair has different needs and you'll have to find out by experimenting what combination of product works for you. I add leave-in conditioner, and then lots of strong hold gel, because my hair is super porous and otherwise gets very frizzy quickly.
Shape. A.k.a don't brush!
Curly hair should never ever be brushed. Especially not when wet or before styling. Wet hair breaks too easily and dry brushed curly hair looks messy, frizzy, and big: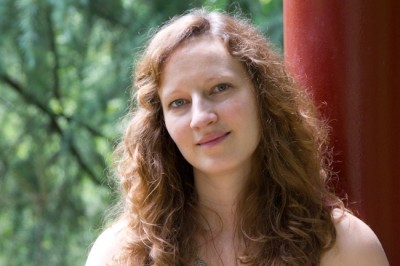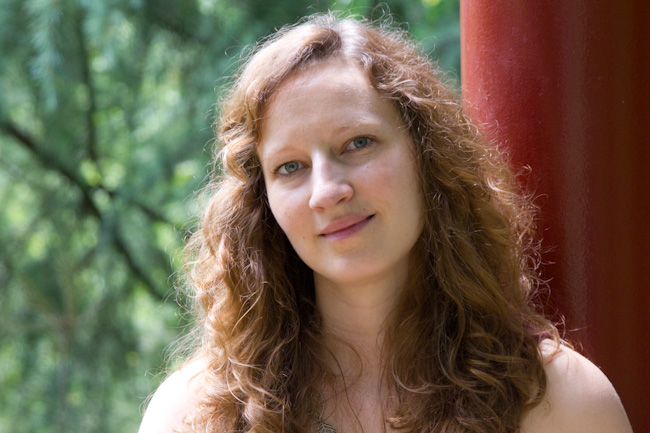 Curly hair naturally clumps together in strands, don't try to fight it. Even the artificially curled hair that everybody wants looks like that. See: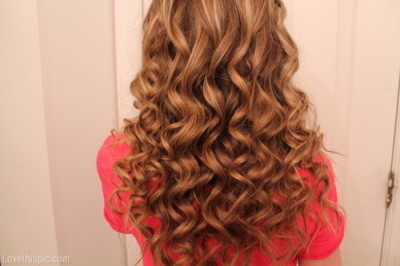 So, don't try to separate the clumps. There is absolutely no reason to do so. Instead, detangle your hair while you wash it and it's smothered in conditioner. At that point it doesn't take more than gentle finger-combing to get any tangles out.
In order to form the clumps, just gently scrunch your completely wet hair with a cotton T-shirt after the shower. Don't dry it too much. As long as there is still moisture, hair naturally clumps together in strands.
Again, don't separate those strands. Apply styling products only by smoothing over the hair and gently scrunching in. No raking or combing in.
Keep the Shape
Now, to set the curls, I like to wrap my hair in a plop while I'm getting dressed and make my face presentable.
Afterwards, air drying is usually best.
When it's too cold to air dry, you can use a hairdryer with a diffuser to avoid head freeze. The diffuser slows down the air stream to keep the curls in shape and you can apply the warm air directly to the roots to give them extra lift.
After the hair is 100% dry and depending on what product you used, the hair might be stiff and crunchy from the gel. It looks weird, feels weird, and is weird: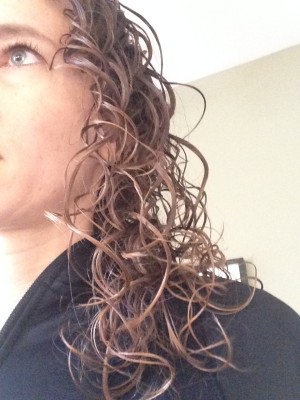 But that's how gel works. It forms a cast around the strands to seal the moisture in while it slowly dries without getting frizzy. Then you just scrunch the crunch out and the results are shiny and soft curls.
Now, the only downside of nice curly hair is that you try to avoid anything that could mess it up. Like wearing hats, or laying down for naps. But sleeping is inevitable and what works great for longer hair is to put it in a pineapple above your head over night: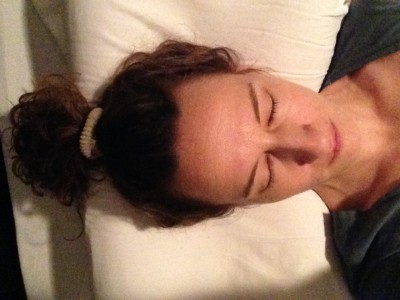 Happy second day hair, happy husband, happy new year: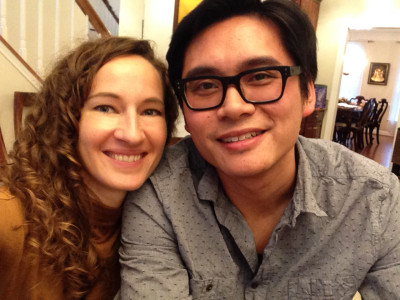 Another one of those things that nobody tells you about when you have kids is the post-pregnancy hair loss thing. Just a few months after giving birth your hormones make you start shedding hair like a dog. While at that stage it wasn't that obvious to me how much hair I really lost (I have always been know for losing and leaving my hair everywhere) it became very clear a few months later when all the lost hair started growing back in. Suddenly there were millions of tiny baby hairs growing in all over my head while the length of the old hair started to look really sad and thin. With my hair's tendency to frizz at just a hint of moisture you can imagine what that looked like. Like sporting an afro at the roots with a mullet in the back. Kind of like this: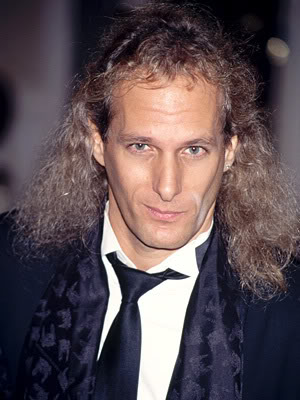 Well, more like this:
See all the one-inch craziness going on around my face and the kinda droopy barely wavy hair in the back (emphasized by my sad face)? Not pretty. Compared to all the curls I had going on for most parts of my life:
And the peak of thick, curly and long hair during pregnancy: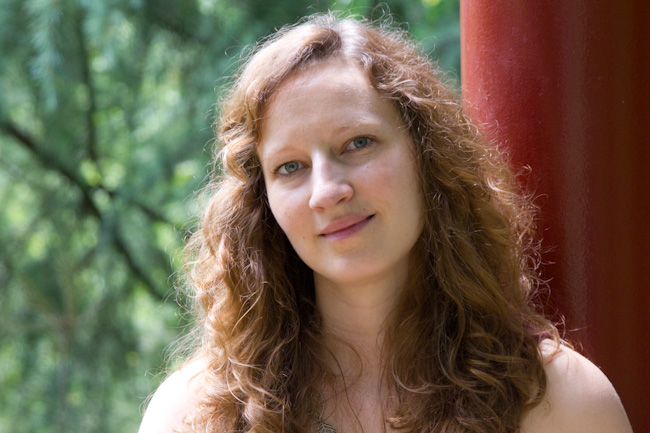 Babycenter's explanation for this phenomena is that "normally, about 85 to 95 percent of the hair on your head is growing and the other 5 to 15 percent is in a resting stage. After the resting period, this hair falls out — often while you're brushing or shampooing it — and is replaced by new growth. An average woman sheds about 100 hairs a day.During pregnancy, increased levels of estrogen prolong the growing stage. There are fewer hairs in the resting stage and fewer falling out each day, so you have thicker, more luxuriant tresses. After you give birth, your estrogen levels take a tumble and a lot more hair follicles enter the resting stage. Soon you'll have more hair coming out in the shower or on the brush. This unusual shedding will taper off and your hair will be back to its pre-pregnancy thickness about six to 12 months after you give birth."
Say what?!! Will be back to it's pre-pregnancy thickness? How is that possible? It's gonna take about 5 years for all the mini hairs to catch up with the old long ones.
At this point I realized that there was probably a second good reason for moms to cut their hair shorter. While I bravely endured a baby and toddler pulling on my long hair that I proudly wore down almost every day, this hair loss finally made me do the unthinkable. Do what all moms do – chop them off. Four sad inches fell to the ground when I was getting a $9.90 haircut from my one and only favorite Hairdresser Zoreh at Mastercuts in the Columbia Mall. But it was all worth it.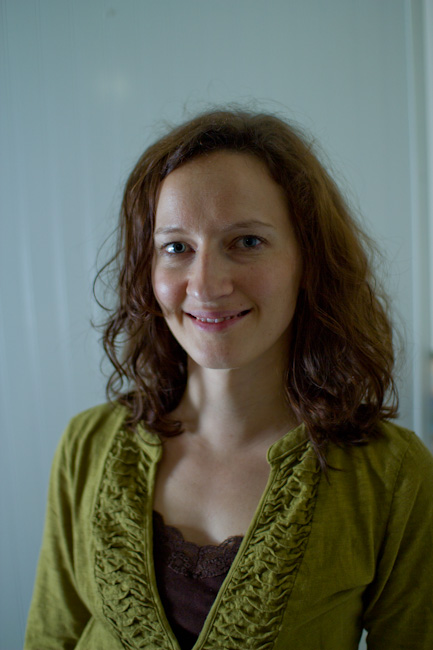 I immediately felt so much lighter, fresher, and ten years younger. Lincoln says he has a brand new wife now and that's kind of like I feel. I guess it was time.
As a special perk and to spread the joy of haircuts I actually have another one of those $9.90 haircut coupons to give away to any Columbia MD resident. Please reply to this post with "Chop'em off" and tell us what your hair is like these days. I will randomly draw a winner using random.org.