There are certain things that can only be done when Milo is not asleep, but stays out of the way. Like vacuuming, drilling holes, or banging nails into the wall. Such moments are rare and therefore that kind of stuff usually takes forever to get done.
Today when I got home from work the guys were out shopping and I seized the moment: ran to the living room, fished for the picture that had been hiding behind the sofa forever, banged a nail into the wall, and hung it up like no tomorrow. Just in time before Milo came back home and could push his toys back into the picture.
Here is a photo of the current living corner: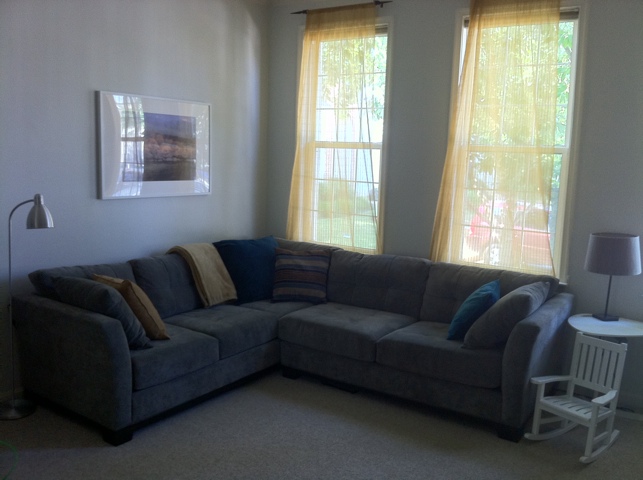 The sofa is from Macy's and the only thing we really splurged on so far. With the pillows in different shades of green and blue I was trying to set the color scheme for the room and then realized that some more warmth is needed. So instead of going for some neutral curtains, I got this cozy honey colored fabric and sewed up three panels. We really only need them for a little privacy, not to block the sun out. At some we just have to fix the curtain rods that the previous owners hung so narrow that it is impossible to fully spread out the curtains and cover the windows.
And now the picture that I got for $7 at Hobby Lobby really ties it all together.
The next task is to find some sort of coffee table that is stylish and kids friendly. Probably something more in the ottoman direction. Will keep you posted.