My two beloved guys are starting to feel a little outnumbered at home. An increasing number of storage ottomans is taking over their living space and are getting more attention than probably justified. I can't help it. I'm in love with storage ottomans. They are really great. They hide a good amount of regularly used stuff, but always keep it handy for when you need it – the perfect middle ground between having stuff like bags, toys, etc. lying around and putting them too far away from where they are being used. You can rest your feet on them, or sit down, or lean your heavy Milo head on them when you get tired from playing but no way! wanna go to bed.  They come in all shapes, colors, and sizes – you just gotta find the right one for you. The only downside is that most of them are really pricey. No way am I gonna pay more than $50 bucks for an upholstered box.
Yay! Time to get creative. Well, ottoman number one wasn't really a product of high creativity, just a lucky find at Ross for $50. This faux leather guy is standing in the foyer and holds all our bags, Milo's supplies for on the go, and serves as a seat for putting on shoes: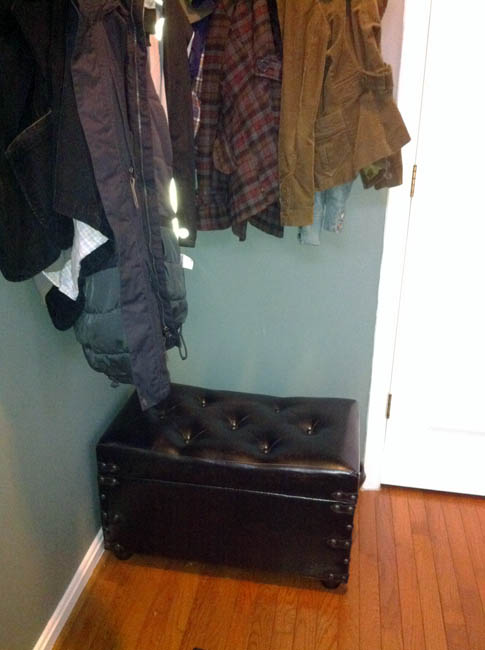 (Seriously, how many jackets do 2.5 people need!!!)
But wait, it gets better. Storage ottoman number two was a much cheaper purchase of $16 and more of a craft project.
He was supposed to hold the overflow of tools next to my desk, but definitely needed a little more wow to spice up my work nook. Since my favorite golden yellow hadn't trickled into the dining room area yet, I decided to go hunting for a patterned yellow fabric at Joann. Unfortunately I couldn't find anything with a bold pattern that would match color-wise, so I went with a plain striped fabric. And here's how it goes:
Cut off the piping around the top because it would look bulgy under the new fabric.
Measure the fabric with a few inches of allowance for stapling. When measuring the allowance, fold the rough edge of the fabric in because you don't want it to be visible later. Then wrap the fabric around the top and bottom and make sure that the end lays on top of wooden structure that you can actually staple into otherwise the fabric will not hold onto anything.
Lay the square for the top wrong side out and centered onto the lid. Then pinch the corners together and pin them where you want your corner seam to be.
For the body we will sew a tube. So just wrap the long piece of fabric around the whole box (wrong side out as well) and pin it together for the seam. Make sure to make the tube tight enough to look fitting later, but so that you can still take it off now. Alternatively you might just want to mark the bottom and top of both fabric layers with a fabric pen, then lay the fabric down and pin a seam.
Sew your corner seams and side seams as pinned. Cut off all excess fabric.
Pull the slip covers over the lid and body so that the seams match up with the corners.
Now it's time for stapling. Whichever piece you start with, always follow this rule: Punch in just a few staples at one side, then pull fabric tight to the opposite side and staple there. Never do one entire side first and then the other entire side. The fabric won't come out straight and tight that way. In this manner, work your way through all sides, but leave out 2 inches from each corner for now.
Lastly, staple the corners. Lay down the fabric on the corner, then fold over the fabric on one side like you would gift-wrapping a box. Same on the other side, and then maybe two staples onto the corner to flatten things down.
Voila!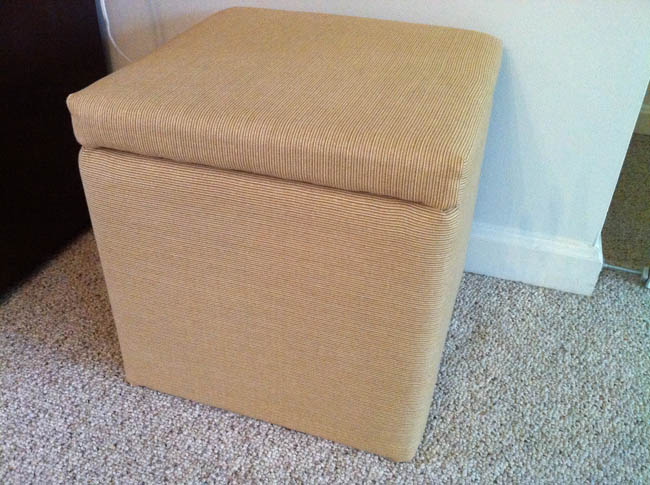 Down the line I am planning to stencil some modern floral pattern in white on it. As soon as I find a cool stencil anyway. Looks already much better than the mess before, right?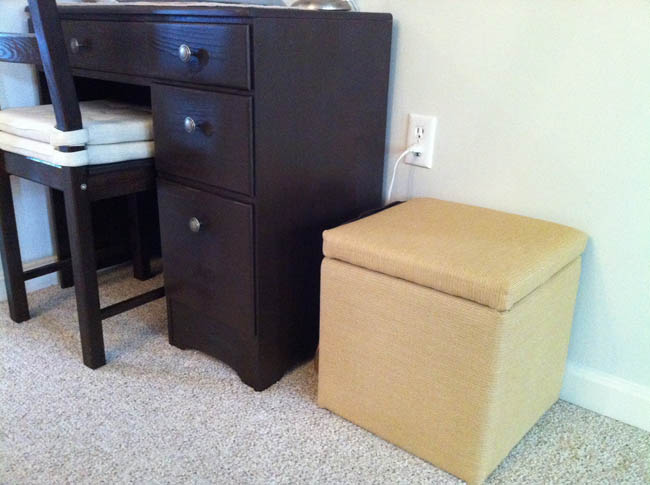 But now let's get to the biggest ottoman makeover yet. What was once one of the most controversial piece of furniture that I brought home from a yard sale, turned into our great new coffee table / ottoman / toy storage trunk in the living room.

Read the whole story here.
So, are you an ottoman believer yet? Or do you have a fully grown fetish for them like me? Come on, it's really hard to deny how incredibly practical those guys are.