Welcome back to LincNic's home renovation show! After a 5 month baby break we are back in business. Not quite full force yet, but with a totally manageable project – our walk-in closet. I have been waiting to tackle this project ever since we moved in and am especially excited about it since  this is not only about making a space look nicer, but also more functional. It's no secret that I am a sucker for beautiful things, but most of you also know that functionality is even more important to me. With little time and money to spare, I like to have my life and household organized to maximum efficiency. If there is an empty corner in my house, I'll take a storage ottoman or additional cabinet over a decorative vase any time. Form follows function, people!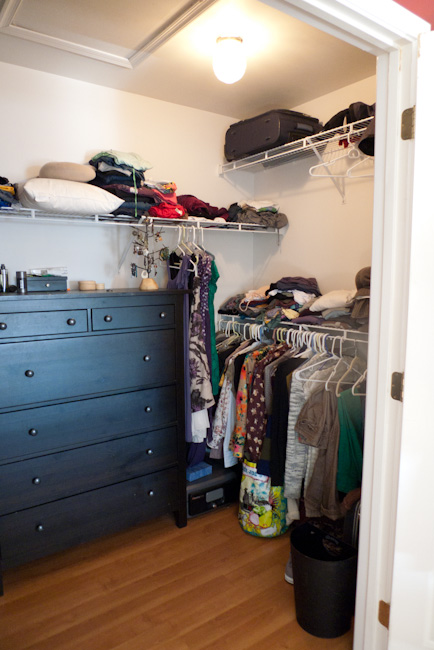 And this builder grade closet just wasn't cutting it for me. Yeah, it's nice and big, but what good is that if I can't use half of the space? The main conflict here is that I am not a clothes hanger, but a folder. It's way faster for me and the sweaters don't get stretched out. So, if you look at my side of the closet, there were only two shelves to hold my stacks of clothes – only one of them really within my reach. And a lot of empty space in between.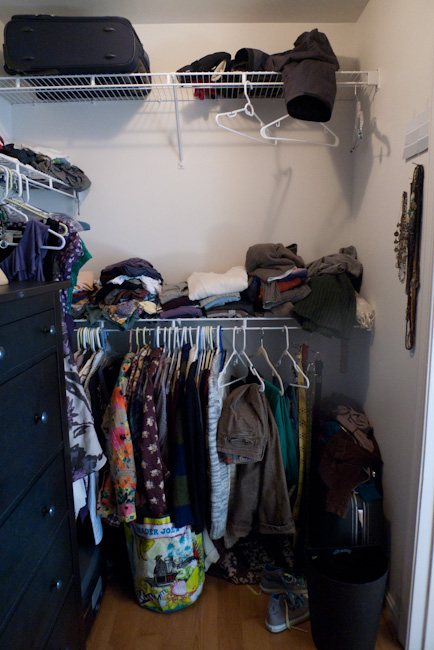 Lincoln's side was dealing with other issues. He is neither a clothes hanger, nor a folder, but a putting-them-downer. Whatever has been taken off the shelves or racks, just ends up laying around somewhere.
We tried to make up for the lack of shelf space by using this big ass dresser which is taking up half of the closet.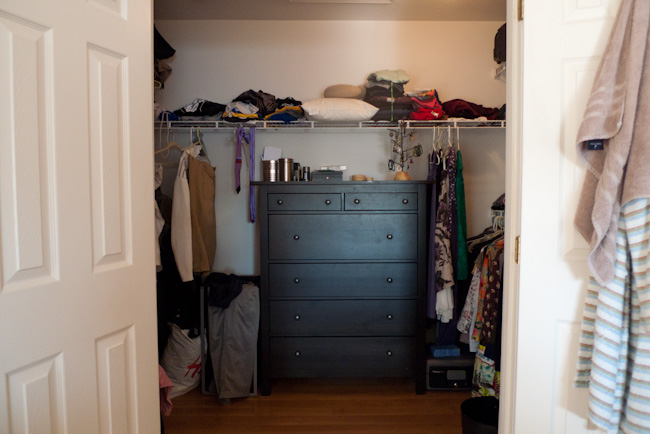 On top of the dresser we don't have enough organized space to hold all my earrings and the stuff that spills out of Lincoln's pockets every evening.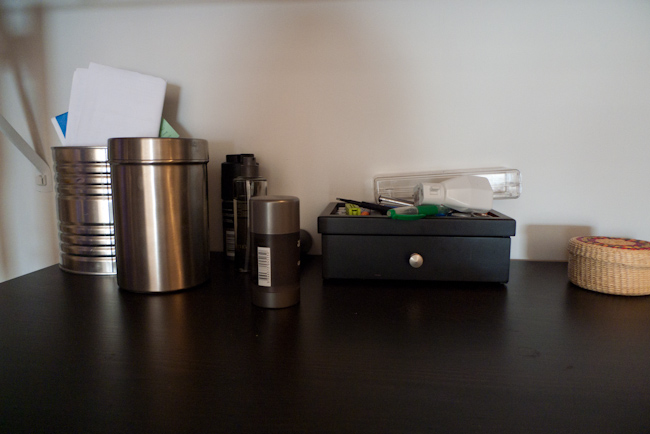 The trash can is ugly black plastic and the black hamper so deep that I almost fall in head first every time I try to find those black socks in there.
So, what was the logical first step? Creating a hot mess in our bedroom.
Then it was time to rip all the stupid wire shelving out and make some swiss cheese.
Why, you ask? Because some genius decided to use threadless screws aka nails together with bolts to attach the shelves to the walls. So instead of being able to screw them out, my only option was to pull as hard as possible and try not to tear down my interior walls completely.
Two rounds of spackling ensued and left me with this blank slate.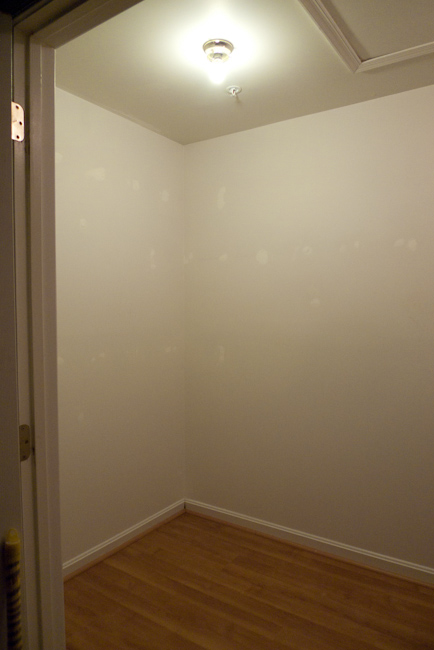 Now this is where the real fun starts. Here's the plan:
Paint the walls a grayish blue

Hack and install white Billy bookcases from IKEA
Build in some racks to maximize space usage
Get some nice storage bins for small things like socks
Bring in a tall mirror and an ottoman to sit on
Get a prettier laundry hamper and trash can
DIY some custom lamps
DIY a jewelry organizer for the wall
DIY an organizer for Lincoln's pocket stuff
Find a solution to temporarily hold clothes that will be worn again
Get and hang some wall art
Maybe a rug
Do the happy dance!