People who think that sleeping like a baby is a good thing clearly have no clue what infant sleep really is like. Unless they mean to say that they wake up every few hours, want to sleep anywhere but in their bed, and can only fall asleep with the help of pacifiers, white noise machines, or by sucking their thumb.
When such clueless people (aka me 3 years ago) have a baby, they will try to apply their adult sleep habits to how their kid behaves or how they expect them to behave. Especially when babies are out of the newborn stage and start resembling a human, it just happens naturally to expect babies to follow common sense sleep logic. After only a few weeks of disappointment and sleep deprivation you begin to understand that they don't. But you still wish they did. Then, when you finally gave up hope that they ever will sleep like a normal person, for some reason you still instinctively treat them as if they did. Only when you have fully and totally accepted that they just don't make any freaking sense, is when they will surprise you with sleeping like a pro. Only for one night, of course.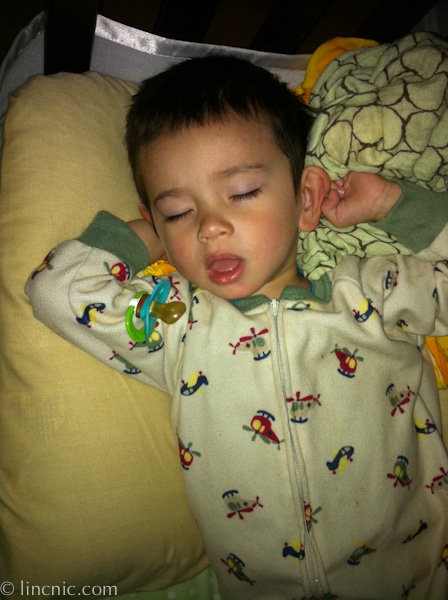 After months of frustration, I compiled this 101 of baby sleep logic to keep reminding myself that kids aren't just small versions of us. As a parent of two ultimate sleep fighters, I might have dealt with some of these issues to the extreme and I am sure that other babies follow different nonsensical patterns. Luckily our babies were pretty good night sleepers and only had problems with naps during the day. And – I just broke baby sleep rule number 1:
1. Don't jinx yourself. The day you brag about how well your child sleeps, it will be over. It's like they want to prove you wrong and practice their rebellion early on. So do your happy dance quietly, but never ever post any sleep success on Facebook.
2. Babies only sleep long / deeply / independently / (enter your happy word here) when you don't expect it or it's super inconvenient. Not when you need to get something done or at their regular bed time, only when you actually have places to be.
3. On that same note – kids only sleep in on weekdays when you already have a tight morning routine, so you will end up having to wake a sleeping baby (=#1 parenting sin).
4. Babies wake up earlier the later you out them to bed. The natural bed time for most babies is earlier than you think / than it is convenient for going out for dinner. So, you might have the genius idea to try to push their bed time later. Sure enough the kid will wake up at 5 AM the next morning. Trust me, don't you ever mess with a bed time that works for your child!
5. Also, the less / crappier a baby sleeps, the less / crappier a baby will sleep. Unlike an adult, kids won't make up for sleep deprivation the following night. Once their regular sleep pattern is disturbed, it can only get worse and takes at least two days to go back to normal.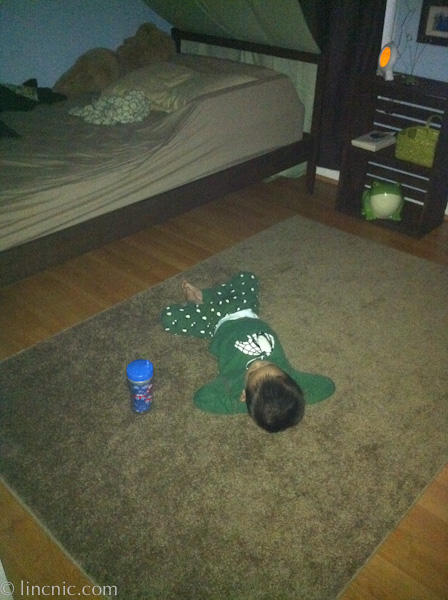 6. Most babies don't just close their eyes when they are tired and magically fall asleep by themselves. Those hilarious videos on Youtube where a baby falls asleep with his face in the food bowl only happen to 1% of us parents and only when you let your baby get seriously overtired (see rule #7 for overtiredness). The other 99% need to be put to to sleep by your active effort. Rocking, Singing, holding for 30 minutes have been reported in our house only to lead to a 30 minute nap.
7. When toddlers get overtired, they don't voluntarily go to bed, but go nuts instead. They will run in circles, throw toys, yell at the top of their lungs, and go deaf as far as your reprimands are concerned. Afterwards they are so amped up that they will take twice as long to fall asleep as usual.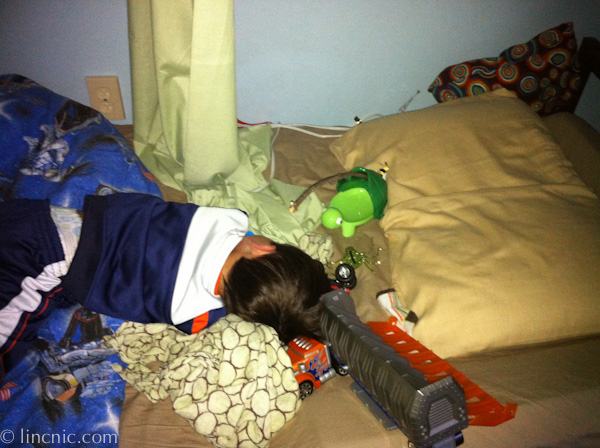 8. Most babies need to learn how to fall asleep independently. In one way or another. After dealing with putting your fussy baby to sleep for a few months it is very likely to get fed up and just let them cry themselves to sleep. It happens to the best of us. And then magic – suddenly your kid knows how to fall asleep. For Felix all it took was one time of crying for 3 minutes until he realized: "Wait, I can do this."
9. It takes only one day to untrain good sleep habits, but a full week to retrain. Typically happens when your kids are sick or teething, that you just have to rock them to sleep again even though you know they are perfectly capable of falling asleep by themselves and you have already done everything you can to alleviate their pain.
10. Night terrors are very different from nightmares, and you won't know which one your kid has when you hear them crying in the middle of the night, until you go into their room. If you are able to calm them down, then it was a nightmare. If they freak out when they see you and then continue to scream the house down for the next 20 minutes, it was a night terror and the best approach would have been to stay the heck out.
Well then, good night everyone!