Some days I feel completely overwhelmed by the workload of a full time job, taking care of kids, and running a household. Other days I am full of energy and everything feels like a piece of cake. One day I will look at back at this post and wonder how we managed to make a living, have a homemade meal on the table every day, and keep the kids entertained. The truth is, we can't always fulfill all needs and wants. But we are doing our best. This is what a typical day in our life in April 2013 looks like:
5 AM: Felix wakes up, but I just give him a bottle, change his diapers, and turn the lights off again. He better learn early on that I am not to be disturbed before a certain time and he can tend to himself if he really needs to be up before the birds. Usually he just chills in his bed or falls back asleep for another hour or two.
6 AM: Felix wakes up for real now, if he wasn't already awake at 5. Time for his milk, diaper change, and getting him into some clothes. This is his and my hour before everybody Milo wakes up. I might take a shower while Felix watches the water drip down. Then I make lunch for Milo and Felix and I play for a little bit.
7 AM: Milo wakes up. Like clock work. Because of his Gro Clock. Still the best kids related purchase ever. I can't wait for Felix to be old enough to follow it. Sometimes I hear Milo up before 7, but he just goes potty by himself and then goes back to bed until the sun shows. "Mami, Sonne is da!" is my cue to bring him his milk. It usually takes him about half an hour to really want to get up and get going, so Felix and Milo and me hang out in his room together an chat about the upcoming day.
7:30 AM: Milo is ready to climb my back and ride downstairs. All kids and me have breakfast together. Sometimes I have to actively feed all three people, because Milo is too distracted or unmotivated to eat.
8 AM: Milo plays by himself, while I pack up my stuff, clean up the kitchen, and finish packing his school bag.
8:30 AM: Felix is either ready for a nap or I hand him over to Lincoln. Either way it's time for Daddy to wake up. Milo and I leave for the day.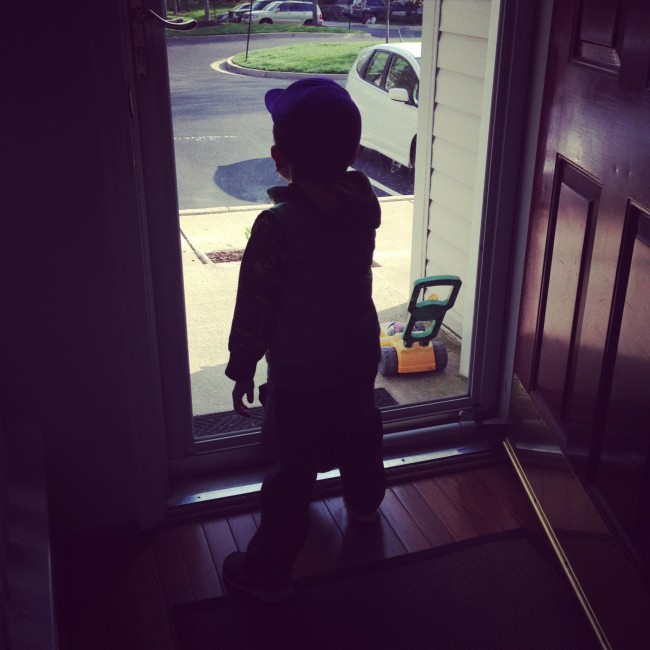 9 AM: Milo's preschool starts, Mama goes to work, Daddy and Felix stay at home. Felix usually takes one nap in the morning and (unless he is sick) is pretty happy chewing on something or jumping in his bouncer, so that Lincoln can get about two hours worth of work done.
12:30 PM: Lincoln packs up Felix and they pick up Milo from school, which ends at 1PM. They all go to Lincoln's parents house, where Milo takes a long nap and Felix is being cared for by the grandparents or auntie Rosie. Usually he takes another nap. Then the kids play for the rest of the afternoon.
5 PM: I get home and seize my golden hour before the rest of the family gets home. Now is the time to prepare a quick dinner, pick up stuff around the house or finish some home decor projects. Ideally, dinner was prepared the night before and is already cooking in the crockpot, but that only happens about once a week. Usually I try to make quick stuff like stews, pasta, or burgers and we make enough for two days so that less cooking is required. This is the most productive hour of my day.
6 PM: Lincoln and the kids come home. Felix is usually tired enough to go to bed right away, so I give him his bottle, change into PJs, and put him to bed. If he had a late nap, he might stay up for dinner with us. We all try to eat together, although Milo sometimes already comes home fully fed.
6:30 PM: Play time. This is really the one hour of the day where I try not to worry about getting stuff done and Lincoln and I play with Milo. Usually lots of wrestling, playing some sort of ball sport, or running around is involved.
7:30 PM: Time to get ready for bed. On bath nights we go upstairs closer to 7:15. While I wash Milo, brush his teeth, and read a book with him, Lincoln takes a nap on the couch.
8 PM: Kids free time begins! For Lincoln that usually means getting back to the computer to work, but depending on how much he got done during the day he might also tend to computer games, watch hockey, or work out in the basement. My idea of a good time is working on home decor projects or working on home decor projects. Once or twice a week we hang out together and watch ER or do what couples do. Somehow however, around 4 out of 7 evenings end up being used for errands. The list of things to do is endless: do laundry, pay bills, do financial planning, write blog posts, prepare my lunches for the week, go grocery shopping, stay in touch with people, research kids activities, etc.
10 PM: Is my average bed time. Sometimes it's half an hour earlier, sometimes later, but you bet that I regret that the next day. Lincoln keeps working / enjoying quiet time much later.
2 AM: Lincoln goes to bed. All lights go out. The house sleeps.