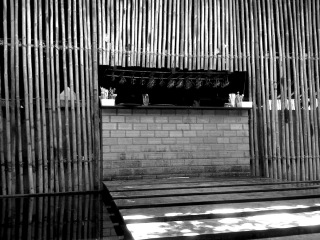 Finally, its Sunday and I finally get a day off. What better to do on a day off then to go drink coffee at a outdoor coffee bar. This place served all kinds of beverages from the famous vietnamese iced coffee to all kinds of smoothies, which I took the liberty of ordering a mango smoothie. (100x better than a Mango Lassi). Following our coffee bar experience, we ate at a restaurant  that fed all six of us for under 40 bucks. Excellent!
Later on in the day, we went shopping where I bought a 12 dollar North face back pack, went home and ate dinner at home. Nothing like a nice home cooked meal from a day on the town. Finally the night ended with an hour massage. Which was both excellent and kind of scary. The lady that massaged me was obviously very skilled at massage to the point where I felt like a loose rubber band in her hands. She bent and cracked and stretched every limb and ironed out my stiffness with her steel rod fingers.
I think I won't get these kind of massages very often. Actually I'd prefer some acupuncture needles to relax my muscles… much easier and relaxing.
So that's it! God I love that everything here is so cheap. Check out some photos below.