When walking along our local river in May, a strong scent of honeysuckle filled the air and reminded me of some of the consumable florals of my childhood. Elderflower is pretty big in Germany / Northern Europe in spring and people use it to flavor drinks, desserts, or make pancakes with them. So I ordered a bottle of elderflower syrup and came up with this recipe to use it. Note that the image here is of a deconstructed version of this cake, I cut the sponge sheet into three pieces instead of rolling it up.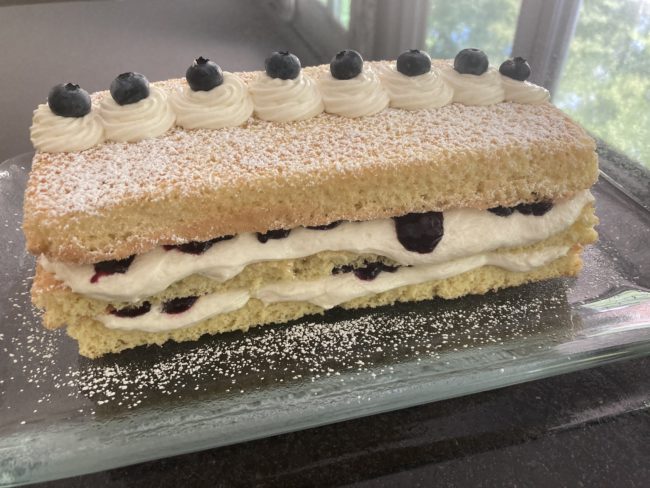 Ingredients for Cake
4 Eggs (room temperature)
1 Egg yolk
80 g sugar
peel of 1 and 1/2 lemons, finely ground
1/2 tsp vanilla flavor
80 g flour
1/6 tsp baking powder (just use a little less than 1/4 tsp)
Ingredients for Blueberry Topping
Either use 1 pint of fresh blueberries (save 10 berries for decoration)
OR use the following ingredients to make a blueberry jam:

1 bag of frozen blueberries
1/2 packet of pectin for sugar-free jam
Juice from 1 lemon
Ingredients for Cream Filling
2 cups of heavy whipping cream
6 Tbsp confectioners sugar
4-6 Tbsp Elderflower syrup
Instructions
Preheat oven to 350ËšF. Line the bottom of a baking sheet (roughly 15×11 size) with parchment paper (do not grease).
Add the eggs + egg yolk to the bowl of a stand mixer fitted with whisk attachment and beat on high speed 1 min, or until foamy. Gradually add sugar and beat on high for another 4 min. It will be thick, fluffy and tripled in volume.
Add vanilla and lemon peel and gently mix on lowest speed just until incorporated. Check to make sure the lemon peel did not clump up / break up and disperse any clumps if necessary.
Whisk together flour and baking powder and sift into egg batter one third at a time, folding to incorporate between each addition and scraping from the bottom to catch hidden flour pockets. Stop mixing when you no longer see streaks of flour.
Transfer to lined baking sheet and bake right away at 350ËšF for 13-15 min (mine took 15 min) or until top is golden, not brown and the middle no longer wiggles. Remove from oven and right away run a thin edged spatula or knife around edges of your cake to loosen from the pan. While cake is hot, invert cake face down onto a clean, dry linen towel that is dusted with powdered sugar, remove parchment paper, then roll cake into the towel (roll up from the narrow side). Let cool to room temp (30 min – 1hr) in a draft free room.
If using frozen blueberries, make a blueberry jam from frozen blueberries, lemon juice, and half package of pectin according to the pectin package instructions. Let jam cool down to room temperature.
Meanwhile, prepare the cream filling. In a large mixing bowl, beat the cream for 1 minute on medium-high. Sprinkle on the confectioners sugar and beat together starting on low speed to incorporate sugar, then turn the mixer up to high speed for 2-3 min or until whipped, white and fluffy, scraping down the bowl as needed. Add elderflower syrup two tablespoons at a time and gently mix in on low. Taste-test as you go to get the strength of flavor you prefer. You want to taste the flavor, but not have it be too overpowering or the cream get too liquid. Save about 1 cup of the whipped cream and set aside for decoration.
If using fresh blueberries, add coarsely chopped (or whole) blueberries into the cream filling and fold in, just until incorporated.
Carefully unroll cake and loosen from the towel. Put dollops of the cream over the surface and spread evenly. If using blueberry jam, place dollops over the cream and gently swirl with a fork. Roll the cake tightly in the same direction you rolled it the first time. Slice off the edges if desired and dust generously with powdered sugar.
For the topping, use the cream without blueberries. Transfer to a large piping bag with a large open star tip and pipe 6 swirls over the top, placing a fresh blackberry and lemon triangle into the center of each one.