In my eyes walls are a piece of art in themselves. How they stand up straight, hold the house together, keep us warm in winter, and can be painted in the prettiest colors of the rainbow. But they tend to shine even more when they are dressed with some beautiful pieces of wall art. Things that give the eye a focal point, that make a plain wall seem more cozy and less structural, things that bring the whole room together and to life. May it be a mural, pictures, photos, wallpaper, or random items. Here are some of my favorite pinteresting ideas for wall art: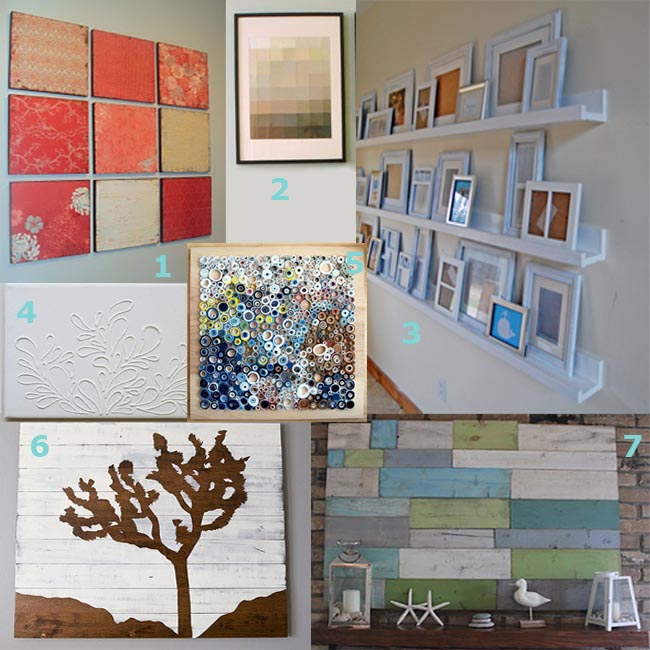 1. Glue pretty scrapbook paper on 1x1foot MDF boards.
2. Arrange paint chips in a gradient pattern. Looks like a pixelated photo.
3. Collect a bunch of white frames with randomly collected art on wall ledges.
4. Use fluffy paint on canvas and then spray-paint the whole thing white.
5. Roll up strips of magazine paper and glue on a wood board. Something for people who need to keep their fingers busy.
6. Tape off a pattern or design on woad boards, paint over it, and then remove the tape.
7. Screw a bunch of withered boards to each other and stain them with a thin coat of any leftover paint.
And then there is this secret I discovered just recently: Pictures look better if they are hung to the wall in groups with some empty wall around them rather than spreading them all over the entire wall. Ideally they should all be in frames of the same color group, texture, or style and then arranged in a seemingly random but coordinated way:
Doesn't look too complicated, right? Personally, I believe that hanging pictures on the wall is the first step to making a house a home and yet sometimes it is the last thing we get to. I have learned my lesson from the past when I would finally hang picture son the wall and then moving out again shortly after. So, let's get to it. Shall we?
Please feel free to share any wall dressings that you have hung or made recently. Do you prefer photos, paintings, or other art? Are you an empty wall person or put up all your favorite memories?