It's been over 3 years that we lived in our beloved home. Much has changed, much will still change, and we are happy to be in this cozy place that has become truly ours. It is still constantly transforming and adapting to our ever changing needs. At this point we are planning to stay in this house roughly until Milo is done with elementary school, so another 5-6 years. The neighborhood and the community is just too great to leave and the elementary school is right across the street. Eventually however, we would like to move into a single family house with a garage and our own yard. With that in mind we are trying to make mostly cosmetic changes that take the house from old country to fresh contemporary on a low budget, so that it will sell easily and hopefully for a profit.
Some of the updates we are making throughout the house are:
Paint all trim bright white instead of cream color
Change all brass light fixtures to white, black, or silver
Swap out all brassy wobbly door hardware to brushed nickel
Remove nasty old carpet from main level and basement and replace with wood floors and new darker carpet
Repaint rooms to a more gray based coordinated palette instead of tan and red.
Other than that it's really just some major decorating. Look at this evolution of a home.
Stairs going up
Before:
Now:
Absolutely nothing has changed in the staircase. There is still dirty carpet, orange wood, and piles of stuff on the banister. Not even pictures went up. But, this place will be undergoing phase 1 of a major overhaul this fall:
Paint all oak handle bars and banisters black
Paint trim white
Paint walls the same light grey as downstairs (might have to hire that out as I have no idea how to reach that high)
Install new light fixture
Hang wall art
Phase 2 will happen when we make a decision on downstairs flooring and involves stripping the stairs of the old carpet and then either paint them, put new wood down, or new carpet.
Upstairs Hallway
Before: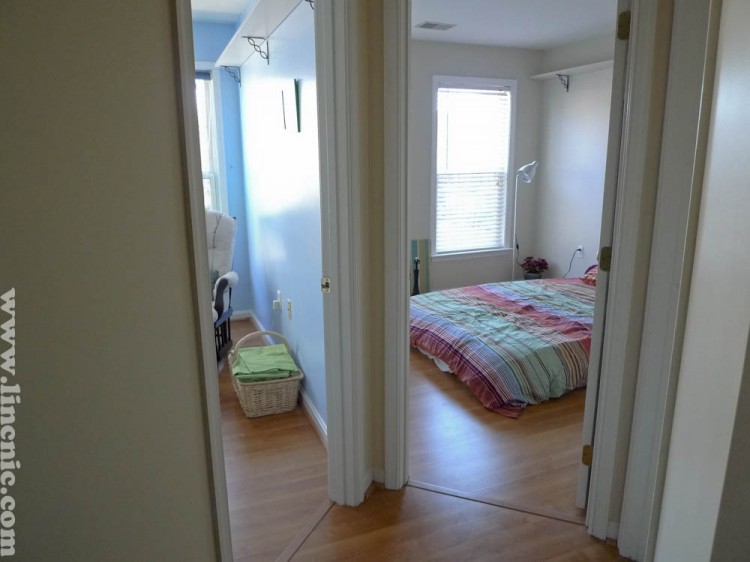 Now:
Same to-do list as for the upstairs staircase, but we actually did get some decorating done here – display shelves for kids art and their measuring stick.
To do:
Paint trim white
Paint walls the same light grey as downstairs
Milo's room
Before:
Between:
Now: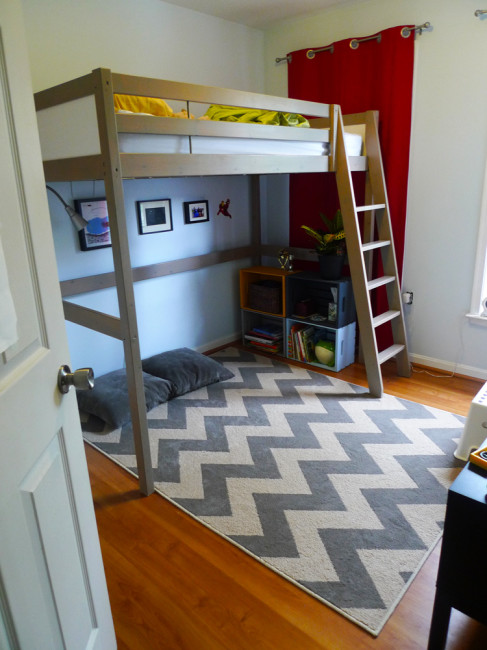 Milo's room went from nursery to toddler room and just got a big boy makeover when he turned 4. I repainted to a softer and lighter blue, got new curtains, rug, and most and important – a loft bed for more play space. I'll show more details soon in a separate post, but this room officially arrived at its final stage.
Felix's room
Before:
Between: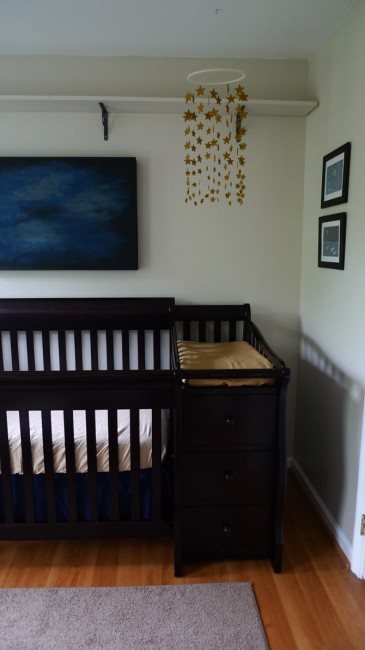 Now:
Felix's room evolved from preliminary guest bedroom to nursery, and now he inherited Milo's twin bed. Once Felix's interests become clearer and he can voice his favorite colors, we'll add some pizzazz here too. And remove those useless wall shelves.
Kids Bathroom
Before:
Now: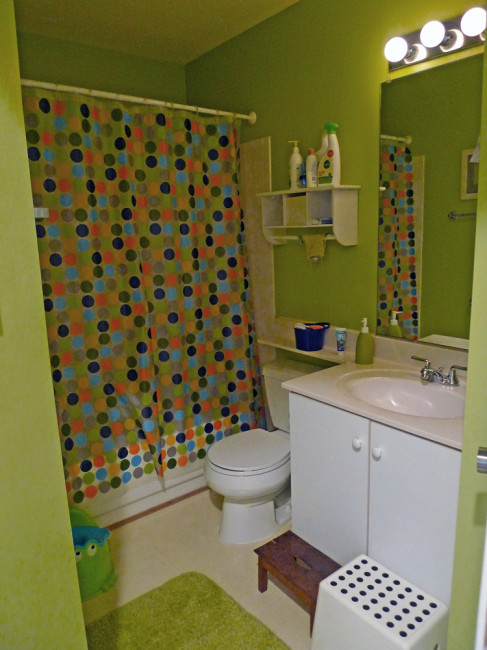 It's still very green in here. The only thing that changed is the shower curtain. When the kids get a little older, we will probably do a light renovation:
Frame mirror
Get modern light fixture
Paint neutral color
Add trim to cabinet and new knobs
Maybe replace the vinyl floor with some actual tiles
Master Bedroom
Before: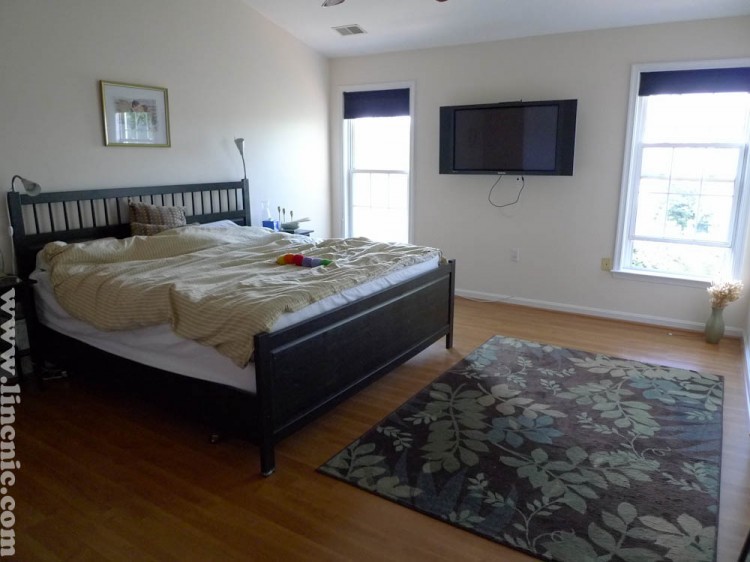 Now: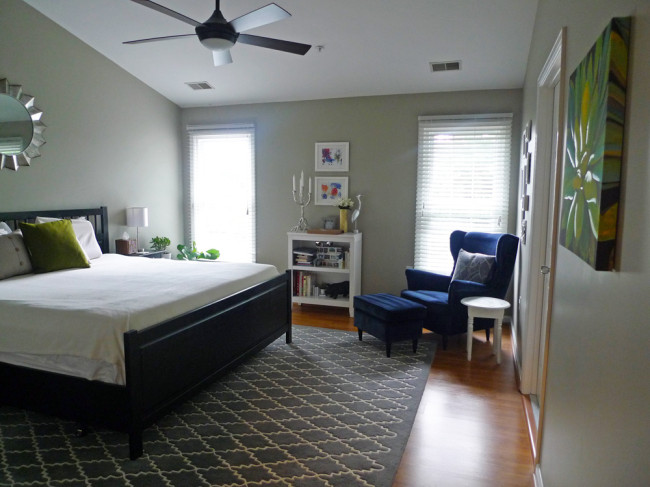 And finally we got our own kids free oasis too. Last year we repainted, added a fan with light and got around to making our bedroom as cosy as it should be. I don't think I have shared details on this makeover yet, so that should be happening in about 3 years.
Next up will be the first floor tour. I just experienced that the only way for me to have time to write a blog post is when I invite some friends for the kids and let them destroy the house around me.